CE marking as a basis for market entry in Norway
The Radio Equipment Directive is the basis for CE marking.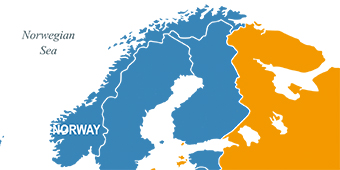 The Republic of Norway is currently not a member of the European Union, but strongly linked to the EU through various agreements (including the EEA and EFTA). This also applies to the approval process for products with wireless technologies. Here, Norway has joined the EU guidelines and also uses the Radio Equipment Directive and the associated CE marking as a guideline for market approval in Norway.
Accordingly, manufacturers must have their wireless products tested and certified in accordance with the requirements of the Radio Equipment Directive (RED). The resulting CE marking not only allows market approval for Norway, but also for the countries of the European Union, as well as for a large number of other countries that use the Radio Equipment Directive and the CE marking as the basis for market approval.
The CE Marking is permanently valid, so that unchanged products do not have to be re-certified. For approval, manufacturers must schedule between six to eight weeks. After certification, a manufacturer is required to visibly display the CE mark on the product, packaging and, if applicable, in the enclosed instructions.
As CETECOM, we offer our customers all services required for European market approval. As an ISO 17025 accredited laboratory, we carry out measurements in accordance with the requirements of the Radio Equipment Directive in our laboratories. Our Notified Bodies then take the approval process. Throughout the entire testing and certification process, which ensures the rapid access to the European market and at the same time, provides you with advice on the other international approvals based on a CE certification.
On our website you will find more information about our full product testing and certification services. You can also find further information on the RED specifications and the associated certification label, as well as many other approval regimes in our certification database CETECOM CERT.
Other articles of this series: