Market access for Colombia
Depending on the device, a MinTIC or CRC certification is necessary for a market approval in Colombia.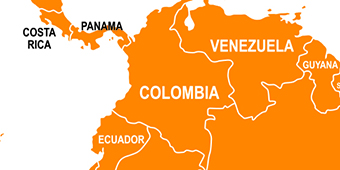 The Colombian authority Ministerio de Tecnologías de la Información y Comunicaciones (MinTIC) is responsible for issuing the approval for radio devices which do not support voice functionality for the Colombian market.
Mobile and stationary phones as well as global satellite systems that support voice are under jurisdiction of the Comision de Regulacion de Comunicaciones (CRC).
The MinTIC/CRC certification is permanently valid for Colombia and manufacturers need to schedule eight to ten weeks for the approval. The certification process relies on the requirements of the FCC certification for the US market, as the Colombian authority accepts FCC test reports and certificates.
Only mobile phones, fixed telephones and global satellite systems that support voice will obtain a CRC register number (labeling number). Each homologated terminal that supports voice will have an internal registration code in the CRC database, under the following scheme:
XX corresponds to the type of approved terminal, while YY identifies the year of registration and ZZZZ is a consecutive registration number associated with the device.
As part of our CETECOM test and certification services, we handle the entire MinTIC/CRC certification for you. We can conduct the required certification tests in our laboratories, and our experienced certification team then handles the full certification process, including the coordination with the local representative, ensuring an efficient approval process for rapid approval in Colombia.
On our website you will find more information about our full testing and certification services. You can also find further information on the specifications for MinTIC/CRC certification and the associated certification label, as well as many other approval regimes in our certification database CETECOM CERT.
Other articles of this series: