ACMA certification for market approval in Australia
Market access in Australia is based on an ACMA certification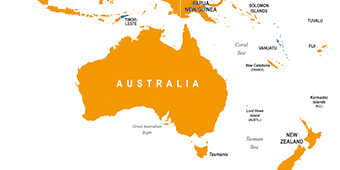 A certification by the Australian Communications and Media Authority (ACMA) equates to Australian market approval for manufacturers of wireless technology products*.
The test scope for the ACMA approval is based on the requirements for CE and FCC approval. However, additional local tests have to be carried out. For the approval process, which must be carried out by a local contact person, a period of 4 to 8 weeks should be scheduled, including the necessary certification tests.
After the official certification of the device by the ACMA, the approval is permanently valid, so that no change in the device or re-certification must be sought. However, it should be noted that in case of minor changes of the device, no modular re-certification is possible. The process for an ACMA Certification must be completely restarted in this case.
Through the ACMA certification, a manufacturer acquires the right and at the same time the obligation to display the ACMA certification label visibly on the device. Here a minimum height of the label of 3mm is required. If this is not possible on the device, it may be possible to print the label on the packaging or in the manual. This depends on the circumstances.
We as CETECOM offer our customers all the services required for the approval for the Australian market. As an ISO 17025 and FCC accredited laboratory, we can perform CE and FCC regulatory testing for the ACMA certification in our laboratories. In addition, our certification team will coordinate the on-site testing and then coordinate the certification process with the local representative and authority. Throughout the entire testing and certification process, we take care of the project handling for you, thus ensuring an efficient approval process and rapid approval for the Australian market.
On our website you will find more information about our product testing and certification services. For more information on FCC requirements and the FCC Certification Label, as well as many other approval regimes, see our CETECOM CERT certification database.
*An ACMA certification also means approval for Norfolk Island, Christmas Island and the Cook Islands, but not for New Zealand.
Other articles of this series: