Efficient market approval for keyless entry in the 315 and 433 MHz and 3.1 to 10.6 GHz frequency ranges
With our approval packages, you receive certification for your product - efficiently and cost-effective.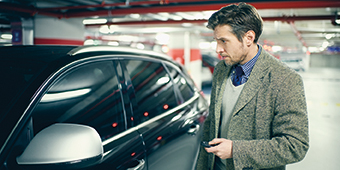 Modern car keys are radio keys with which provide keyless entry and doors can be locked and unlocked by means of a control element. Different frequency ranges are used for these functions:
315 and 433 MHz (Short Range Devices)
3.1 to 10.6 GHz (Ultra-Wideband)
These products can be used globally, taking into account local regulatory requirements, so that an approval strategy is the ideal starting point for market approval of the radio keys.
Our approval packages offer you efficient access to the core markets of Europe, USA, Canada and Japan. If you need additional certifications for other target markets, we will expand our product package based on your requirements. And this at favorable package prices.
Benefit from our many years of experience in the fields of Short Range Devices (SRD) and Ultra-Wideband (UWB) and gain fast and reliable access to your target markets for your product. We enable market access to over 200 countries.