Regulatory requirements for Ultra-Wideband technology
Certification schemes define the technology differently.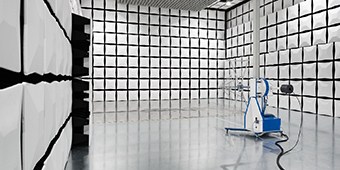 Ultra-Wideband technology is defined as a short-range radio communication and its most important feature is the use of large frequency ranges with a bandwidth of usually at least 500 MHz.
In order to be able to market a product that uses Ultra-Wideband technology, regulatory approval for the relevant target markets is of course required. One challenge here is the different definition of Ultra-Wideband in the licensing regimes of the various countries. Here are a few examples:
How the EU defines UWB technology:
"Equipment using Ultra-Wideband technology means equipment incorporating, as an integral part or as an accessory, technology for short-range radio communication, involving the intentional generation and transmission of radio frequency energy that spreads over a frequency range wider than 50 MHz, which may overlap several frequency bands allocated to radio communication services."
How the USA define UWB technology:
"Ultra-Wideband transmitter defined as an intentional radiator that, at any point in time, has a UWB bandwidth equal to or greater than 500 MHz or a fractional bandwidth > 0,2"
How Canada defines UWB technology:
"The transmit bandwidth (-10 dB) is at least 500 MHz or a fractional bandwidth greater than 0.2. The -10 dB bandwidth shall be completely between 3.1 to 10.6 GHz."
How Japan defines UWB technology:
"Device transmit bandwidth (-10 dB) is at least 450 MHz."
This means that for the countries mentioned, manufacturers have to meet a wide variety of testing requirements, which are defined in the respective standards:
Radio Equipment Directive: ETSI EN 302 065 – 1 to 5
FCC: Code of Federal Regulations Part 15, subpart F
ISED: ISED Rule RSS220
ARIB: Standard STD-T91
On the basis of our DAkkS accreditation we offer our customers a wide range of regulatory testing according to RED, FCC, ISED, ARIB, and additional certification regimes and are therefore your competent partner for the topic of Ultra-Wideband.
In case of any questions regarding Ultra-Wideband Testing, feel free to get in touch with us.