Regulatory requirements for wireless charging products
Qi certification does not relieve the responsibility of regulatory approval.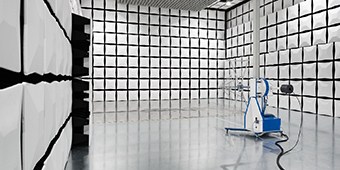 In the context of certification for the European market regarding products with wireless charging function, the need for regulatory approval is questioned regularly:
Is a Qi-certified product a radio device and is the Qi certification based on the requirements of the Wireless Power Consortium in line with the regulatory requirements for the European market?
A look at the requirements of the Radio Equipment Directive (RED) answers this question unambiguously: transmitters and receivers with the function of wireless charging fall despite a Qi certification under the RED and must therefore also be certified according to the RED requirements.
The Radio Equipment Directive defines these products as radio devices with wireless charging function and clear standards are defined for the regulatory approval:
ETSI EN 303 417 (Radio)
This standard, in its current version, provides a very detailed description of the test for WPT devices in terms of the effective use of the spectrum. The tests to be performed depend on the device type (sender or receiver):
Transmitter (charger)
Permitted range of operating frequencies
Operating frequency range
H-field requirements
WPT system unwanted emissions (radiated / conducted)
Receiver
Radiated Emissions
Blocking
EN 301 489-1 & -3 (EMC)
These standards cover requirements to ensure that EMC phenomena are taken into account accordingly. The scope of the test can roughly be divided into two parts:
Interference Emission – Which disturbances come from the device and how can they affect other devices?
Interference Immunity – How immune is the device against disturbances, which emanate from other devices?
In addition, compliance with the requirements for electrical safety based on the standards EN 62311, EN 60950-1 or EN 62368 is needed, as well as the regulatory approval of the actual device with regard to the technologies used (Bluetooth, WLAN, USB, NFC or mobile).
At CETECOM, we offer an extensive portfolio of testing and certification services, and we are the ideal partner for the approval of radio technology devices and our service portfolio allows you to certify radio devices with and without the function of wireless charging.
Detailed information about our services around the topic "Wireless charging" or the Qi certification can be found here.
If you have any questions, please do not hesitate to contact us directly:
+49 2054 9519 0 / contact@cetecom.com