EN 62368-1 as an important standard for the electrical safety of products
cetecom advanced offers short-term possibilities for product testing - also according to EN 62368-1 among others.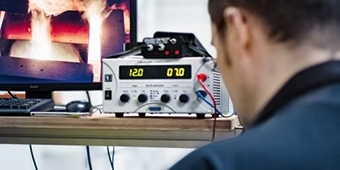 Electrical safety is an important basic requirement for market approval – in the EU, among other countries. For this reason, electrical safety tests as well as tests for the electromagnetic compatibility are integral part of the regulatory tests for certification and the associated market approval. If a product uses wireless technologies, even further regulatory requirements apply.
Ensuring the electrical safety of products traded in Europe is subject to various standards harmonized by EU Directive 2014/35/EU (the so-called Low Voltage Directive) – including the DIN EN 62368-1 standard.
EN 62368-1 is a European standard that covers the safety requirements for audiovisual, information and communication technology equipment. The full title of the standard is "Audio/video, information and communication technology equipment – Part 1: Safety requirements."
The standard defines the requirements for the design and construction of electronic equipment to ensure that it is safe and does not cause harm to the user, operator or environment. In doing so, it replaces the older EN 60065 and EN 60950 standards as of the end of 2020.
EN 62368-1 specifies requirements for the following aspects:
Protection against electric shock and fire
Protection against harmful effects of electromagnetic fields
Protection against harmful effects from optical radiation
Protection against mechanical hazards, such as protection against pinching of fingers
Protection against overheating and overloading
Requirements for the design of enclosures and protective covers
EN 62368-1 is an important standard for manufacturers of audiovisual, information and communication technology equipment, as it ensures that their products comply with current safety standards.
cetecom advanced is accredited to perform various electrical safety tests in its laboratories.
You need measurement capacities or support in the scope of electrical safety at short notice? Do not hesitate to contact us directly: https://cetecomadvanced.com/en/contact/