New mandatory safety tests according to IEC 62133
Safety standards for devices and equipment consist of detailed requirements to reduce the risks of danger to the life and health of persons and things to a minimum. 2016 brings several changes for approval regarding electrical safety.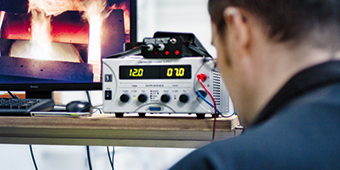 On July, 2nd 2016, the new directive for safety tests of batteries has become effective. The directives 2006/95/EG and 2014/53/EU include testing parameters according to EN 60950-1 with respective additions A11:2009, A12:2011, A1:2010, A2:2013 and AC:2011.
In the mentioned addition A2 there are new requirements after IEC/EN 62133 which define especially safety tests for portable lithium and NiMH batteries. Under the IEC CB procedure approved rechargeable cells and portable batteries correspond to the international safety standards and simplify your access to the worldwide market.
With CETECOM you will get a CB report including CB certificate by which you can apply for the correct test mark for your country.
Expiration of the standards IEC/EN 60950 and IEC/EN 60065
The standards IEC/EN 60950-1 and IEC/EN 60065 will expire with a transitional period until 20.06.2019. The tests of components, for example power supplies, according to the previous standards for products of audio/video or information and communication technology will then no longer be valid in Europe. The market launch of products containing these components will not be possible anymore.
The IEC EN 62368-1 has been restructured and is no more a combination of both product safety standards 60950 and 60065. The new approach is the safety of the product while being influenced by high energy. The assessment of the risk of injury is in the foreground and shall be minimized by installing appropriated safety devices.
Despite the transitional period up to 2019 a test for new products after IEC/EN 62368-1 is already recommended. But even for already certified products which are still in production, a re-certification to IEC/EN 62368-1 is advisable.
CETECOM can help you managing the mentioned changes.
Due to our large service portfolio in testing and certification services in the context of electrical safety, we can meet the new testing requirements according to IEC 62133 and IEC/EN 62368-1 easily and furthermore offer a variety of other services.
For more information, please do not hesitate to contact us »