New EMC standard EN 55032 for multimedia devices is now to apply
The EN 55032 replaces all previously valid EMC standards for multimedia devices.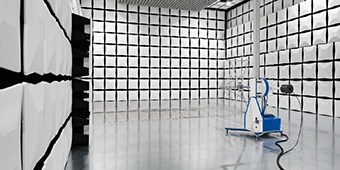 The new EMC standard for multimedia devices – EN 55032 – has been valid since 5 March 2017. However, there has been a transitional period for the previously valid standards EN 55022, EN 55013 and EN 5103-1.
This transition period has now expired so that the EMC tests for multimedia devices can only be carried out on the basis of the specifications defined in EN 55032. The standard is valid for all products in the category of multimedia devices and equipment and makes new demands on the emissions of these devices.
We are accredited to carry out the testing in accordance with EN 55032 in our laboratories and are also available to advise you when it comes to defining the testing effort, if your declaration of conformity still refers to the previously applicable standards.
Do not hesitate to contact us.
More information about our complete EMC test portfolio can be found here.