3D antenna characterization in MHz Range at CETECOM
3D antenna tests of pattern and performance also for circular polarized antennas in MHz range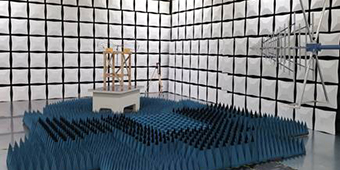 Wireless application are on the rise in many areas. This holds also for applications in the MHz range, such as e.g. 164 MHz used at ships and 315 MHz used on ground based vehicles. For tests at those frequencies classical OTA chambers are in most cases too small and cannot be used at all, because they are equipped with gear useful for frequency above 600 MHz only.
MHz wireless technology is often used specifically for long-range communications. Therefore, it is important to know the antenna gain in different directions.
Typical applications are about the frequency range from 80 MHz to 400 MHz and shall be tested e.g. at a measurement distance of e.g. 6 m, typically.  For this purpose, we retrofit our EMC chamber at our Düsseldorf site to an AFAR (Antenna fully anechoic room). In addition, we apply a special measurement technique to be able to characterize also circular polarized antennas. We use phase-sensitive measurement data and an appropriate post processing. Doing so we can determine not only pattern, efficiency and gain, but also 3D axial-ratio data.
With this development-supporting test service, we can help manufacturers of products early in the development phase and contribute to find the ideal performance for their wireless system.
If you have any further questions, please do not hesitate to contact us: https://cetecomadvanced.com/en/contact/