eCall and ERA-GLONASS – Certification of emergency call systems at CETECOM
Your number 1 partner for eCall and ERA-GLONASS certification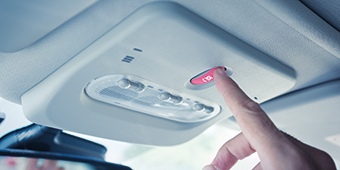 While eCall functionality has been mandatory for all new vehicles in Europe since 2018, this functionality has been available in Russia since 2015. Other countries have followed suit later or have prescribed their own emergency call infrastructures and technologies.
CETECOM has been at the forefront of this development since the beginning of the discussions on the subject of emergency calls in vehicles and has contributed with its technical know-how to the fact that the functionalities are becoming safer and better and thus rescue measures can be initiated more quickly.
The original development of the eCall standards, the further development towards NG eCall or test and approval projects for eCall and ERA-GLONASS.
CETECOM is your partner for the approval of in-vehicle emergency call systems:
Everything from a single source
Shortened downtimes
Audio-tuning and measurement with subsequent certification at one location
Fast response times
Effective processes and certification
eCall certification
We were already designated by the German Federal Motor Transport Authority (KBA) as a technical service for eCall in August 2017 and were the first laboratory in Europe to offer and carry out eCall approval. Likewise, we were the first laboratory to be designated by the KBA as a technical service for UN-R 144.
In addition, we have been involved in the standardization of eCall test specifications for several years and can draw on a wealth of practical experience through a large number of eCall approvals performed. With our exceptional expertise in the eCall approval process and the technical know-how we have acquired over the years to carry out the necessary tests for approval, we are your number 1 contact when it comes to eCall certification.
CETECOM Services for EU/UNECE eCall
CETECOM has been officially designated by the German Federal Motor Transport Authority (KBA) as a technical service for the following areas designated:
EU eCall – Regulation (EU) 2017/79
UNECE eCall – UN-R 144
EMC – UN-R 10
CETECOM Services for NG eCall
CETECOM has been accredited by the German Accreditation Body (DAkkS) according to ISO/IEC 17025 for all NG eCall specifications.
DoC Testing: CETECOM offers DoC testing for all test test specifications
ERA-GLONASS certification
The ERA-GLONASS certification for the Eurasian Customs Union with countries like Russia, Armenia or Belarus is a big challenge for OEMs and suppliers.
We have been providing approved ERA-GLONASS pretesting for six years and we provide project management for an efficient approval process. Due to our know-how and experience from a large number of successfully completed ERA-GLONASS projects, we ensure that your system receives approval as quickly as possible.
Well-established processes, direct communication channels in local language lead to minimal downtimes of your vehicles.
CETECOM Services for ERA-GLONASS
Pre-Testing: CETECOM offers pre-testing services for several testing standards.
Pre-certification for GOST standard 33468 (audio quality), so that the time, effort and possible risks for official certification in Russia can be reduced.
Consulting: CETECOM offers besides the pre-testing and pre-certification services, CETECOM also offers consulting for efficient ERA-GLONASS certification.
We are your partner for an efficient ERA-GLONASS certification, who takes care of the entire project management project management to shorten your time-to-market.
You are looking for a partner for your emergency call system approvals?
Contact us and benefit from our years of experience: https://cetecomadvanced.com/en/contact/