cetecom advanced as know-how carrier in the field of electrical safety
With our expertise and testing capabilities, we serve a wide range of diverse international electrical safety specifications.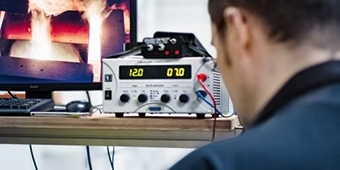 The risk from hazards emanating from equipment should be reduced to a minimum for people, animals and goods. To achieve this, certain safety standards must be met. Electrical safety is an important basic requirement under which technology products are approved for the market. It is therefore an integral part of the regulatory tests for certification and the associated market approval.
In addition to the electrotechnical design, the current specifications also define important requirements for proving conformity with regard to mechanical load tests, as well as heat resistance.
cetecom advanced has a wide range of capacities for testing electrical safety on your product.
In addition to testing for electric strength, Resistance to fire, or protection against electric shock, our electrical safety experts also perform tests to exclude leakage current, for protection against electrical energy hazards, and a physical and structural design review, among others.
With our know-how and testing capabilities, we serve a wide range of different international specifications. For European specifications, we test the electrical safety of your product according to the currently valid IEC/EN standards. We also offer accredited tests in our safety laboratories for the CB program valid in 50 countries and for NRTL/UL for the US and Canada certification.
So you are looking for experts in the field of electrical safety? cetecom advanced is therefore your contact in this field. Contact us at: mail@cetecomadvanced.com.