Basic tests of electrical safety
Electrical safety is a prerequisite for market approval.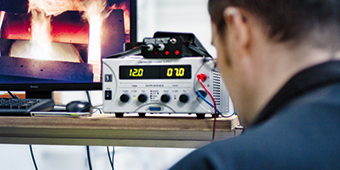 Compliance with electrical safety is a prerequisite for the approval of technology products and an integral part of regulatory testing and related market approvals.
In principle, different certification regimes need to be mentioned in the field of electrical safety. While the NRTL approval covers US and Canadian regulatory testing, the so-called CB Scheme is an international system for the mutual recognition of test reports and certificates that deal with the safety of electrical and electronic components, equipment and products. Currently about 50 countries participate in this program.
The European part for electrical safety is defined by the associated EN/IEC standards. CETECOM is accredited to carry out electrical safety regulatory testing in accordance with EN-60950-1 and EN 62368-1, thus accompanying our customers on the way to market approval. These include the following tests:
Measurement of protective conductor resistance
Measurement of the leakage current and the touch current
High-voltage tests
Temperature tests
Power Measurements for mechanical strength
etc.
You can find more information about our own service portfolio on the subject of electrical safety here. In addition, we work with a variety of partners to help our clients quickly complete the electrical safety testing of as part of the regulatory approval process.
If you have any questions, please do not hesitate to contact us directly: https://cetecomadvanced.com/en/contact/ or contact@cetecom.com