The relevance of pre-testing as part of Qi approvals
Pre-testing plays a key role for the efficient approval of Qi devices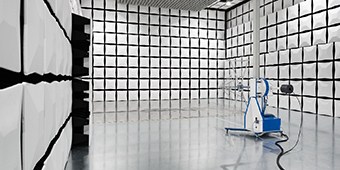 The number of products that support the Qi standard, and thus the wireless charging function, continues to increase as the technology continues to expand. The number of companies registered with the WPC has increased by almost 100% in the last twelve months.
Due to the increased number of products on the market, the pressure for manufacturers to obtain approval in a timely manner in order to be present on the market is increasing. In this context, the relevance of pre-tests becomes ever greater.
Pre-testing can provide tremendous benefits to the approval process, both at the product development stage and shortly before the device is officially certified:
In the context of development-supporting tests, indications of design improvements can be provided by results of the pre-tests. This particularly concerns the foreign object detection (FOD) and the maximum delivered/transmitted power, which is enormously relevant for wireless charging.
Pre-testing saves manufacturers from surprises and possible delays due to unexpected results in the official certification tests, so there is no delay shortly before the planned launch.
Pre-testing is possible without providing a wealth of formal information, so the administrative burden of performing pre-tests is low.
Similarly, pre-testing already generates much technical and administrative information that can be used for the official certification process. Under certain circumstances, the formal effort involved in the official admission process may be reduced.
The pre-tests can be used to look beyond the regulatory requirements. These checks are designed to identify worst-case scenarios and verify device interoperability.
Accordingly, pre-testing should not be underestimated as part of the approval of devices that use the Qi standards. Especially if the pre-tests are also carried out at an official Qi approval laboratory and all information and results can be reused.
CETECOM continues to be the only laboratory in Europe authorized by the Wireless Power Consortium (WPC) for conducting official certification testing for wireless charging devices using the Qi standard. Detailed information about our service portfolio around the topic "wireless charging" can be found here.
If you have any questions, please do not hesitate to contact us directly:
+49 2054 9519 0 / contact@cetecom.com