LoRa technology as driver for IoT
LoRaWAN certification as a basis for approval.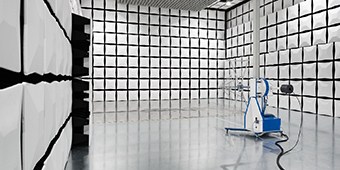 The LoRaWAN specification is defined as an LPWA (Low Power, Wide Area) network protocol that allows battery-powered devices in regional, national, or global networks to be wirelessly connected to the Internet, and addresses the key requirements of the Internet of Things (IoT) such as bidirectional communications, end-to-end security, mobility, and localization services.
The related LoRaWAN Certified program offers manufacturers end customers the assurance that their application-specific end devices will work in every LoRaWAN network. The scope of the certification program confirms that the end device meets the functional requirements of the LoRaWAN specification as defined by the LoRa Alliance. The LoRaWAN certification is specific to LoRa. In addition, there are country-specific requirements for testing and market approval that the LoRa devices must meet. Depending on the country, the processes required to obtain a market approval can vary from "self-declaration" to "classical type approvals".
We offer our customers all testing and certification services related to the regulatory approval of LoRa devices. In addition, we can carry out a LoRaWAN certification via our partner network, so that we can offer you the approval of your LoRa device from a single source.
Further information about LoRa can be found on our website. If you need further clarification or would like to send us an enquiry, please do not hesitate to contact us directly.