Extended service in environmental testing – new dust chamber
We at cetecom advanced realize IP protection tests for almost every possible industry and almost every conceivable application!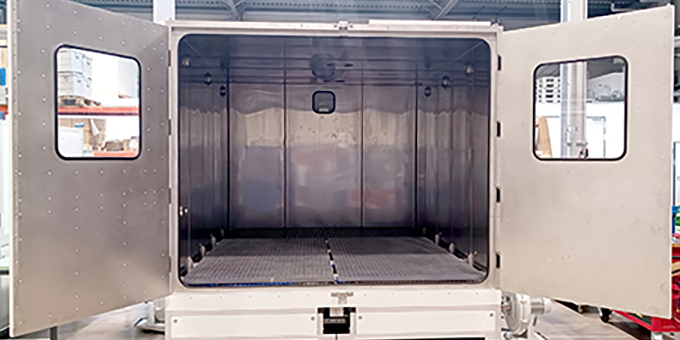 In our accredited test laboratories, we simulate the real environment and thus we for instance perform dust protection, water protection tests and leak tests.
We have now improved our special hall for these environmental tests with an even larger dust chamber:
With an internal area of 2.400 mm x 2.600 mm x 3.400 mm and a floor load of 800 kg/m², this new facility offers our customers THE solution for the performance of IP-protection type tests (here: against the effect to dust) on particularly large devices/test specimens.
The dusts we use for tests in this new one and our other dust chambers are of very high quality and, in addition to their mineral origin, they can be provided with the chemical or metallic additives according to the required standard.
Regardless of the variety of dusts, we provide for testing, our dust chambers meet the requirements of numerous testing standards, including:
IEC 60529:1989 + A1:1999 + A2:2013
ISO 20653
EN 60068-2-18
IEC 60598-1
LV 124
BMW GS 95003-4
Of course, it is also possible to use other test dusts for other standards or test methods – please feel free to contact us!
Here again are the summarized technical data of the new dust chamber:
Internal dimensions of the test chamber: 400 mm x 2.600 mm x 3.400 mm
Floor load: 800 kg/m²
Negative pressure: up to 25 mbar
Flow measuring: 0-12.000 liters per hour
Cable bushing: up to 200 mm
In case of any questions, feel free to get in touch us: mail@cetecomadvanced.com / +49 681 598-0