Automotive Radar Testing
Information on regulation.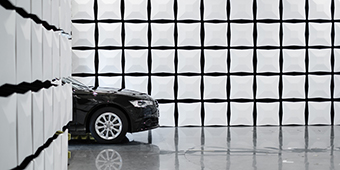 In modern vehicle safety systems, radar is used in conjunction with cameras, ultrasound and other sensors to obtain information about the environment of a vehicle. These include services such as distance warning systems, blind spot detection, stop-and-go functionality, automatic speed regulation and lane departure warning systems.
Information on regulation
For most countries, the scheme is divided into the two frequency bands 76 – 77 GHz and 77 – 81 GHz.
For 76 – 77 GHz, the technical requirements for acceptance are basically homogeneous.
For 77 – 81 GHz, many countries do not yet have a regulation.
Exception: In 2017, the FCC homogenized the frequency regulation for both areas and is therefore one step ahead of many countries.
It should also be mentioned that the regulation for the frequency range 24.25 GHz to 26.65 GHz expires in 2022. The regulation for the band 24.05 GHz – 24.25 GHz, on the other hand, is already almost completely homogenized.
More detailed information about "Automotive Radar" and our services can be found in the corresponding article on our website.
If you have any questions or need further information, do not hesitate to contact us directly: https://cetecomadvanced.com/en/contact/