Modernization of our EMC and radio test capacities
Expansion of our resources for emission and immunity testing.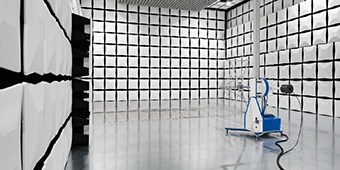 CETECOM offers decades of experience in testing and we are well known for our expertise in EMC and radio testing. In order to provide our customers with ideal conditions, we are constantly investing in the equipment of our laboratories. Only recently, we have completely modernized our SAC3 test chamber in Duesseldorf, Germany.
The modernization enables us to carry out far more projects for our customers in a much faster way. The new equipment of the test chamber has enabled us to expand our capacities for emission and immunity tests. With the modernized chamber we now have an additional resource in which we can carry out emission tests up to 18 GHz and immunity tests up to 6 GHz. In addition, a further measuring station for automotive EMC tests has been created.
Should you therefore have a short-term need for EMC and radio tests, please do not hesitate to contact us: https://cetecomadvanced.com/en/contact/.