CETECOM modernizes test chamber in Duesseldorf
Modernization enables new test capacities for test specimens weighing up to 1 ton.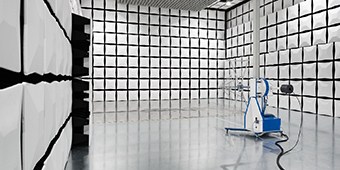 We continuously invest in the modernization of our testing capacities. In our laboratory in Duesseldorf, Germany, we have now completed the renewal of our SAC3 test chamber, in which the testing technology has been renewed, a modern HD camera system for monitoring test specimens as well as amplifiers for immunity tests have been installed.
In addition, antenna technology with modern Ultralog antennas has also been implemented, enabling us to offer our customers state-of-the-art testing services with capacities, e.g. for immunity testing from 80 MHz to 6 GHz or emission measurement from 9 kHz to 40 GHz.
Furthermore, a renewed turntable makes it easy to test industrial equipment weighing up to 1 ton. Due to the specially installed water connection, this also applies to water-supplied devices under test.
In addition to the SAC3 chamber, we also have our SAC5 test chamber in Duesseldorf, where we can test devices weighing up to 4 tons at a maximum measuring distance of 5 meters.
In case of any questions, feel free to get in touch with us: contact@cetecom.com / +49 2054 9519 0