CETECOM CERT Version 1.44 released
New version includes, among other things, a newly designed label requirement report.
Last week version 1.44 of our approval and certificate management tool CETECOM CERT was released. CERT offers a comprehensive overview of all certification information of products with radio technologies and at the same time provides a transparent overview of your current certificates and approvals.
In the new version, the label requirement report has been revised and is now available in a new structure.
Table of contents
Labelling requirements per country and approval scheme
Appendix for label details
The information on the labels in terms of design and appearance has also been centralized in an annex at the end of the report. Each country and scheme specific section contains a link to the respective label in the annex.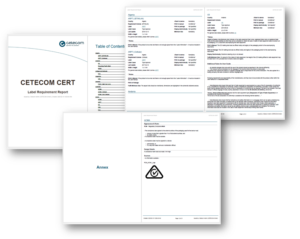 In addition, two further changes were rolled out with version 1.44, which improve the experience of CERT for our customers:
Two-factor authentication for secure login
E-mail reminder for timely information on the expiration of certificates that are not assigned to a CERT project
Further information about CETECOM CERT can be found on the CERT subpage. If you are interested in CERT or have specific questions, please do not hesitate to contact us directly.